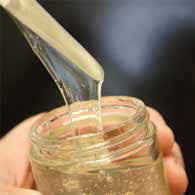 Polyrez offers a revolutionary specialty gellants( SILO-GEL ) based out of fumed silica .
This high purity gellantsare  supplied to our clients in a pre-dispersed, homogenized form making it an easily manageable, dust free product.
Silo-gelare characterized visually as clear, act as a viscosity boosting agent in liquid systems, and tend toward shear-thinning behavior. The high surface area, low bulk density of the fumed silica particulates produce gellants with low solids content ranging from five to fifteen percent depending on the media.
We offer an option of different dispersal media to choose from (including natural oils, castor oil) thus giving us the ability to tailor to individual customer needs.
From an applications perspective, these specialty products have the ability to facilitate shine making them excellent for use in lip gloss, lipstick and hot pours. Pigment suspensions, emulsions, and gels are other areas of favorable use for these products.
Variants of Gellants:
RicinusCommunis (Castor) Seed Oil
Dimethicone
Hydrogenated Polyisobutene
IsononylIsononanoate
Iso propyl Mysistate/ Iso Proplypalmitate
CCTG
Mineral Oil